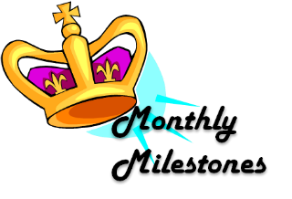 This is a nice new activity hosted by Sarah, the Expat Bride and since so much has been happening in wedding, blogging, children and so on this month I thought I'd join in!
Wedding
Our wedding gets ever nearer (eek!) and this month has been pretty big as, after visiting the bridal shop in January, my bridal gown and my Bridesmaid's dress were finally delivered. A quick trip out to simply try them on and then bring them home, but and exciting one nonetheless and more concerns about fitting into the thing when the time comes! We brought the dresses home as alterations are not started until about 6 weeks before the wedding, so lovely Kirsty has them at her house, getting in the way until July (isn't it great to have friends??). I've also managed to find something to have in my hair, so I'm a bit happier about that. Next month I am finally getting my hair and make-up sorted and hopefully making the invitations – I can see caffeine filled nights and wobbly ribbon in my future!!
Blogging/Writing
As well as carrying on with my own posts, I have also taken part in the A to Z Challenge this month. The aim of it has been to write one post per day for all of April (except on Sundays) using the different letters of the alphabet. Some of mine have been really random, some quite dull and pathetic (I was reaching ok??), but it is all in the name – it was a real challenge to blog everyday, and I mostly winged it on the posts themselves, not deciding what to write on until the evening. I think If I do it next year I will plan a bit better! I have also just accepted a writing position with BrewDrinkingThinkings and will be writing on Theatre for them. I guess it's not technically this month as my first issue is not out til May, but I am writing the posts now!!
Children
My children grow weirder lovelier by the day. Biggest boy will start Preschool four mornings a week now (once we get all these Bank Holidays out the way) and will have lunch there once a week. That's really weird for me, as he'll be spending so much time out of the house and out of my care. I guess it's all preparation for school and will give me more time to spend with littlest lad as we don't get a great deal of time on our own. I'm looking forward to taking him to some of the places I went with biggest boy when it was just us now that he's getting to the almost-walking stage!
I think that will do me for April – it's not been the most immense month, but there have been some highlights! Onwards and upwards into May!